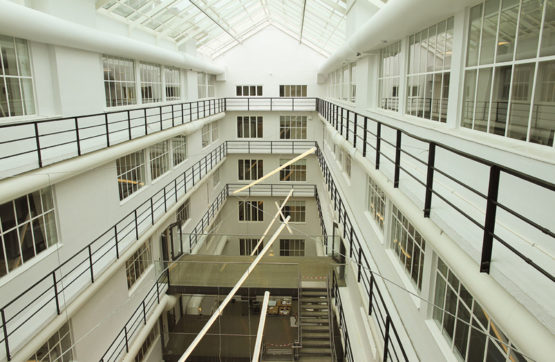 The contracting company Bunde Construction AS has been providing the refurbishment on behalf of the property company Anthon B Nilsen Eiendom AS and OBOS Forretningsbygg, who have equal shareholdings in the property Christian Krohgsgate 32 AS with an area of 11,300 square meters. The apartment building was purchased from Aberdeen in December 2014.
– We assisted Westerdals Oslo ACT finding new premises and during the inspection here we found out that the building is well suited to their purpose. It has good heights, is robust and has a good amount of daylight, which is well suited for teaching and classrooms. That it is column-free between the floors, is also beneficial, says director of development Fredrik W. Baumann in Anthon B Nilsen Eiendom AS (ABNE) to Byggeindustrien.
The contracting company has rectified the facade with patching of the masonry and plaster and paint.
– Inside, we mounted care windows to achieve better U value and sound. We've added a new roof with standing seam roofing on the sides, and internally we have set up new walls and built classrooms in various designs. These meets the silencing 70 decibels because there are extreme demands on sound proof for studios, says Ruden.
The walls of the old apartment building consists of steel, plaster and hydro. The entire ventilation system is changed, while the radiator system is largely retained.
– The yard is classified as a C-class building. It is mounted exterior solar shading, as otherwise approved by the Cultural Heritage Management Office. All doors are new, many of them with sound attenuation. Besides that, we have added a new floor covering in most classrooms that is provided by Intep, said the manager.
Article and images at bygg.no.
Categories

Client

Westerdals Høyskole, Oslo School of Arts, Communication and Technology AS

Year

2016