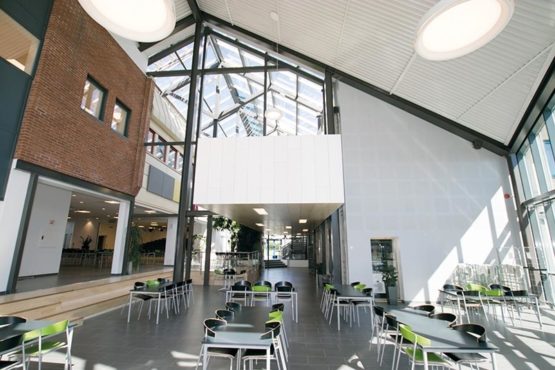 After being expanded in many stages over the last 40 years, the latest development and rehabilitation will give Skogmo high school in Skien a comprehensive expression.
Skanska has been responsible for the final construction phase at the vocational school. The mission has been two-part; new construction to a new line and renovation of many of the existing buildings and outdoor areas at the school, located in the industrial area Kjørbekk south of Skien center.
The contract consists of 2,500 square meters of new buildings and just as many square rehabilitation, and it is HUS arkitekter who have been designed the buildning.
– We have taken many steps to open up the school, says Per Arthur Larsen, project manager in Skanska, to Byggeindustrien.
– The school consists of parts from the 1970s to the 2000s. The actions we have taken have been to open the school with several large, airy and bright areas. I think we managed to achieve that and at the same time tie the various parts together, he adds.
Article and images at bygg.no.
Categories

Client

Skanska Norge AS

Year

2016