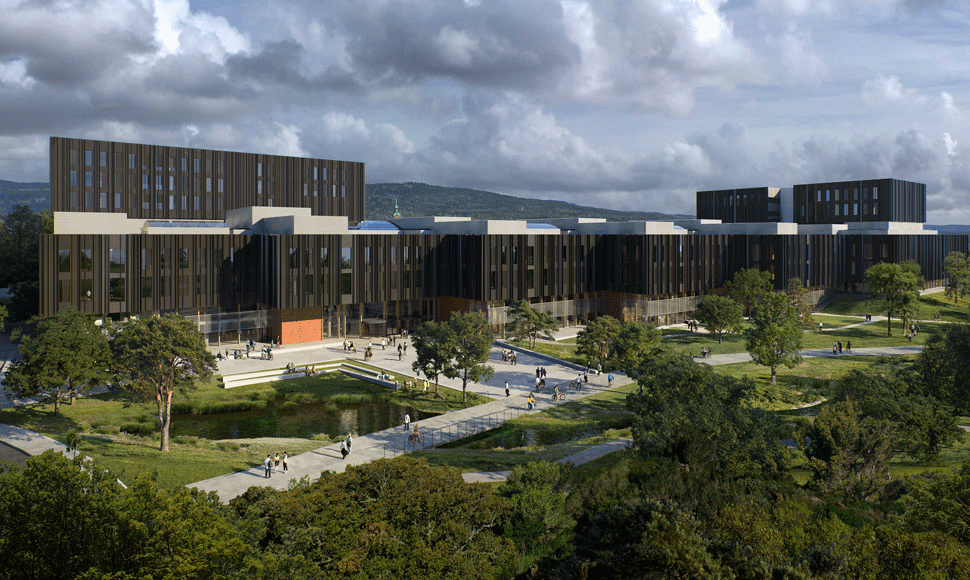 Norwegian Directorate of Public Construction and Property [Statsbygg] has been tasked by the Norwegian Ministry of Education and Research to start work on a schematic design project for a new research and education building for life sciences, chemistry and pharmacy at the University of Oslo.
The intention is that the 66,000 square metre new building will be located in Gaustadbekkdalen, between Blindern and Rikshospitalet. The planned building will be Norway's largest single university building and one of Directorate of Public Construction and Property biggest projects ever.
The Vev proposal was a clear winner. The competition proposal demonstrates a solution to a complex site situation in a particularly good manner and with high architectural quality. The jury concluded that Vev stands out because of the clever, holistic design of the buildings, both architecturally and with a building structure adapted for the flexible organization of research and study. The jury felt that the building's relationship with the terrain and the green areas was clearly the best in the competition.
Article on bygg.no
Categories

Client

Statsbygg

Year

2014 –