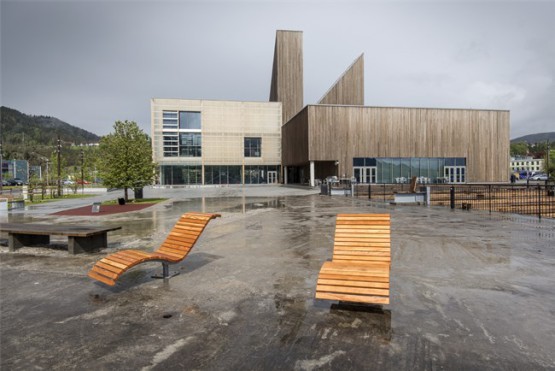 "The three architect firms Børve and Borchsenius AS, Askim/Lantto Arkitekter AS and Dronninga Landskap AS together won 1st prize in an open, international architectural competition in 2010 with their proposal "Materialklang". 74 proposals were submitted from 17 different countries.
The design of the building and its surroundings were performed by the firms in collaboration. The Book & Blues House is approx. 5,225 m2 spread over 3 floors. The house accommodates a library, cinema, kiosk, live stage/café, blues museum, recording studio and performing arts college. The outdoor amphitheatre in "Lossinga" provides opportunities for close contact with the water at Heddalsvannet. An area with lush trees, seating, playground facilities and skateboard features makes the Book & Blues House into a meeting place for Notodden, both inside and out.
The house's simple and geometric structure is inspired by earlier industrial buildings at Jernverkstomta. Three large towers in the entrance hall area characterise both the interior and exterior. Emphasis is placed on utilizing local, robust and maintenance-free materials. Heartwood pine impregnated with green vitriol is used as exterior cladding. Inside, wood, glass and concrete are used as the main materials." (-http://www.bokogblueshuset.no/huset)
We were engaged by the builder Notodden municipality in the pilot project and by the working partnership Skorve Entreprenør and Tor Entreprenør AS during the procurement and construction phase.
Dagbladet: "There is only one city in Norway that can build a "blues palace"."
Dagbladet: "The sound engineers have placed sound-absorbing panels on all the walls in the combined café and live stage, which the artist Marius Martinussen has made part of the art decorations in the new Book & Blues House."
Categories

Client

Notodden Kommune

Year

2014